Our ambition is to satisfy a variety of needs with respect to study facilities. There are many open spaces for students to work individually or in groups, but there are also a lot of halls and rooms intended for specific purposes. 
Extended opening hours
The libraries offer extended opening hours for students and KI staff. This means you can enter the library before and after regular hours with your KI card. 
Extended hours at the library
Extended hours at the library
Extended hours at the library
Students and employees at KI can use the libraries in Solna and Flemingsberg every day of the week from 7.00–22.00, during the extended opening hours. You enter the library with your KI card and PIN code.
The library's group study rooms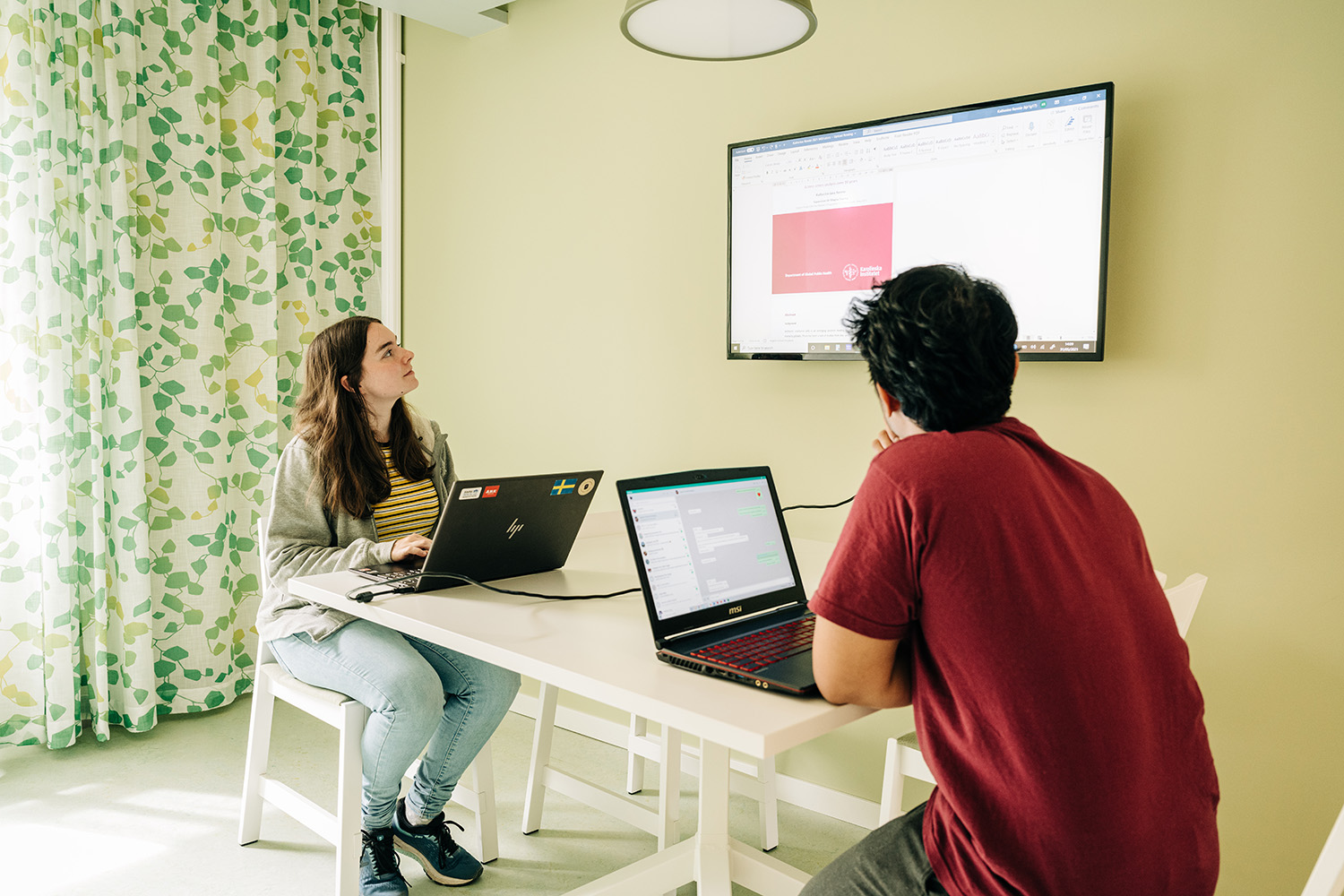 The library has a number of group rooms for students. These are booked through TimeEdit, the same system you use to book all other group rooms on campus. In TimeEdit, click on the rooms called KIB Flemingsberg (1-20) and KIB Solna (1-14). Please note that the resource rooms for students with disabilities are booked through a separate booking system and have special booking rules, more information about the resource rooms.
The library's group rooms are open every day at 07:00–22:00 You can book a maximum of 21 hours a week and one week in advance.
How to book
1. Click on "Boka grupprum som student" (Book group room as a student)
2. If you're already logged in you don't need to log in again, otherwise log in with your student account 
3. Click on "Biblioteket" (The library) and filter on the campus you're interested in. You can also search for KIB Solna and KIB Flemingsberg. 
4. Click on the day or time that's available. Write the time you wish to book the room. Write your name and phone number and click on "Boka" (Book).
5. Click on "Skicka bekräftelse" (Send confirmation).
6. If you need to cancel your booking, find your booking under "Mina bokningar" (My bookings), click on the booking and change/cancel and then "Spara" (Save).
Keep in mind that group rooms are popular, don't forget to cancel your bookings you do not intend to use. You can not book or cancel through library staff. If you want to study on your own it's better that you choose a study place in the library instead of booking a group room.
If you're a doctoral student you have to contact the library to book a library group room. In case you still have a student account you can use that login for booking.
The library's group rooms cannot be booked by employees, although exceptions are made for teaching purposes, see Book group study rooms for teaching.
Read more about what applies to group rooms on the page Book group rooms as a student where you'll find more information about other group rooms available at campus.
In Flemingsberg you will find all group rooms on the right when you enter. The rooms are placed in numerical order, starting along the wall and then continuing in the middle. The resource room (group room 9) is located at the far end of the library.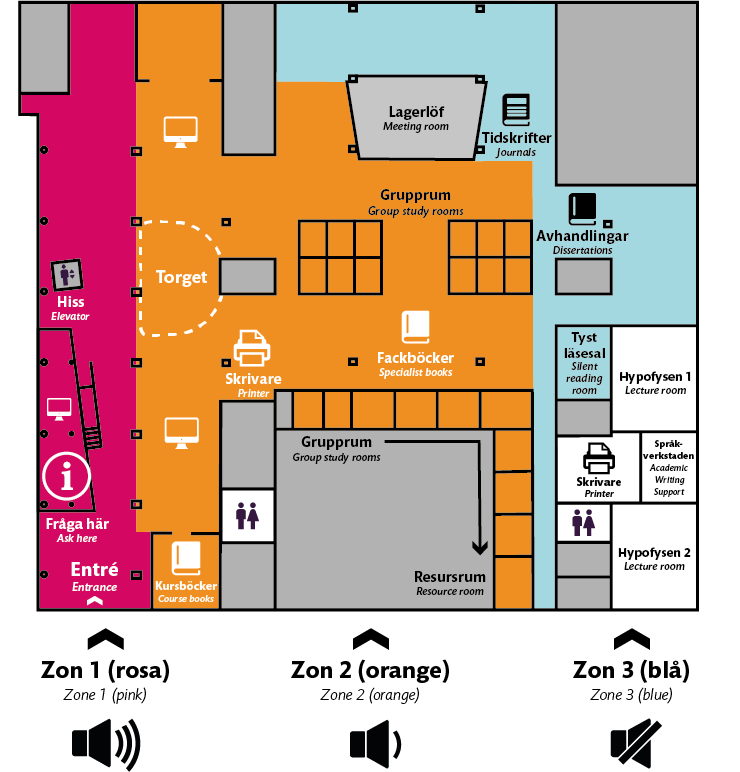 In Solna, all group rooms are on the upper floor of the library (floor 3). You can reach them most quickly via stairwell 1 in the entrance hall, beyond Medicinska bokhandeln, via Berzelius väg 3.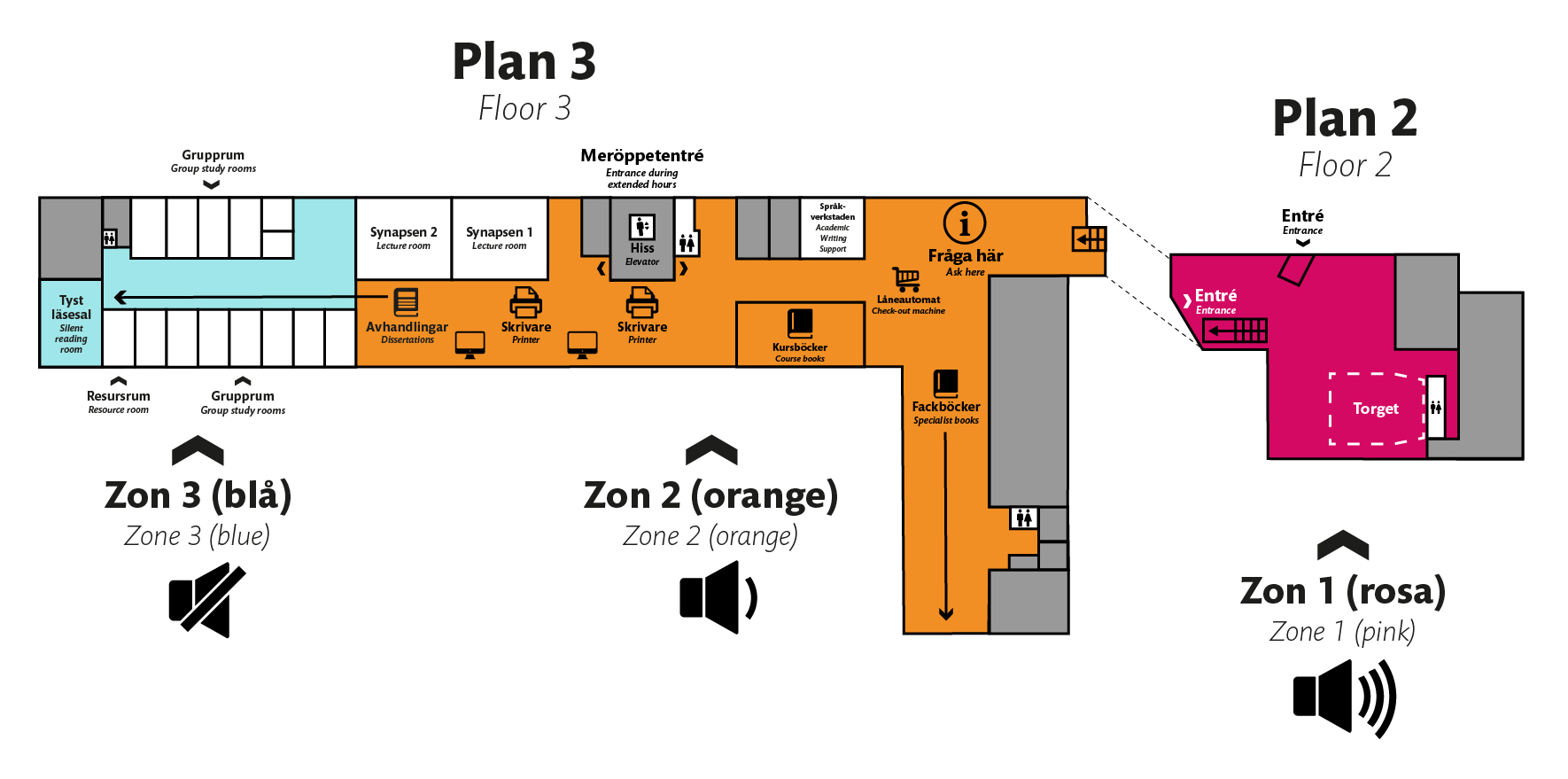 Group rooms are equipped with whiteboards and a large screen to facilitate joint work. Room 1-8 in Flemingsberg has a computer. You can borrow whiteboard pens yourself from the baskets in the course book room.
You will find more specific information about what is in each group room and how many can be accommodated if you click on the information in TimeEdit.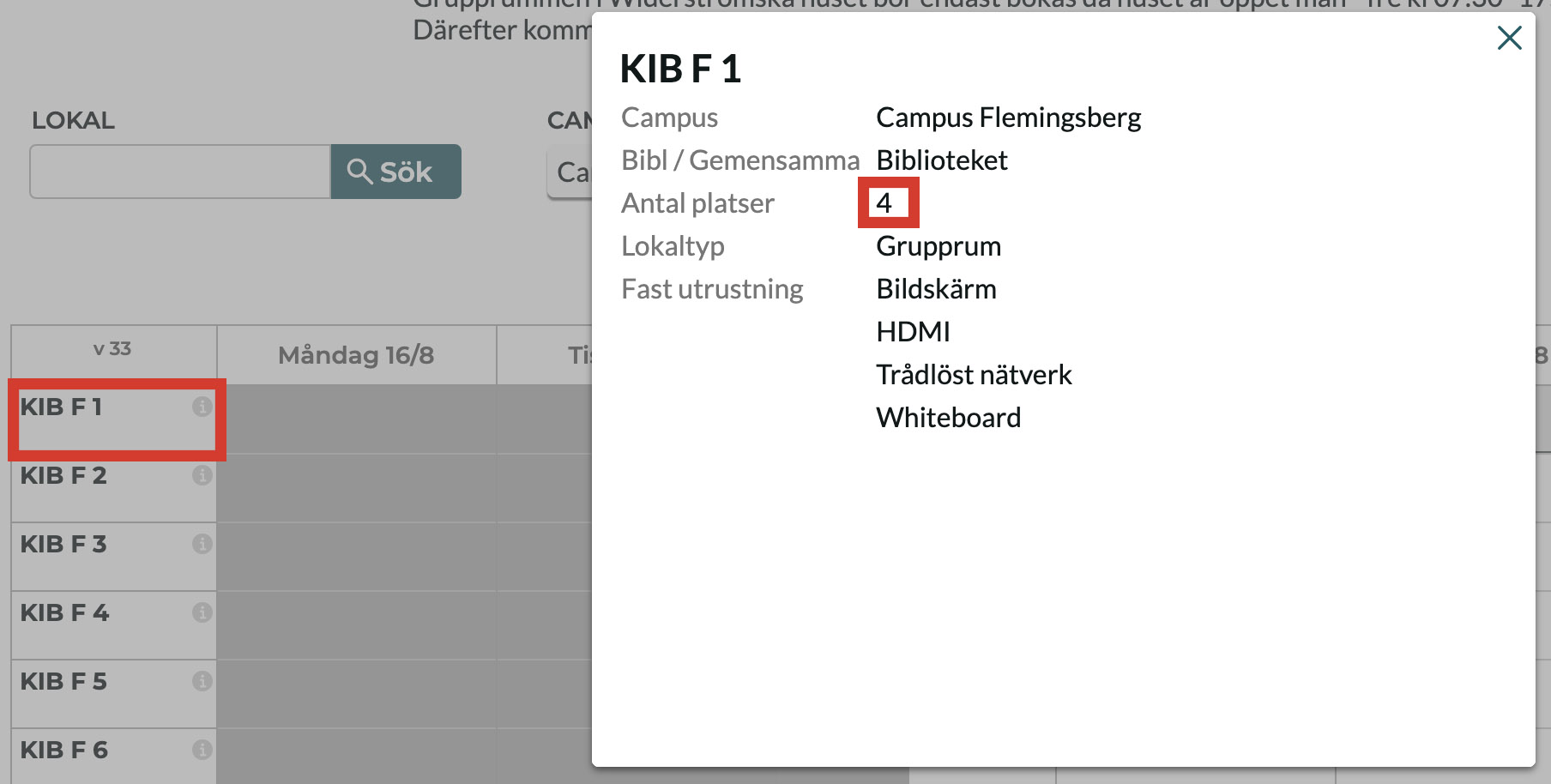 Half of the group study rooms should always be available to students. Therefore, only half of the group rooms can be booked by a teacher in a day, either half of the rooms all day or all rooms half the day.
A booking can be made 6 months in advance.
Otherwise the same rules applies as for those booked by students.
Silent reading rooms
There are silent reading rooms for you who want to work completely undisturbed. In the silent reading rooms, special rules apply; you are not allowed to talk or use a computer (although but a tablet without a keyboard is ok). The rule of thumb is that it should be completely quiet in the silent reading rooms.
Computer rooms
There is one computer room in Solna (Hanna) where students can sit and work outside of scheduled lectures. Computer rooms in Flemingsberg are only for scheduled lectures.
Read more about the computer rooms
Resource rooms
The resource rooms are specially equipped rooms for students with some form of disability. There is one resource room in Flemingsberg and one in Solna.
Read more about or book the resource room
Torgen
Torget is a public space that is well suited for various forms of events. Torget can be booked free of charge by KI members during the library's opening hours. The events given must be open to all, free of charge and non-commercial. In addition, they must have a connection to KI's operations.
Read more about Torgen and how to book
Rules of conduct
Respect the sound zones
The libraries in Flemingsberg and Solna are divided into three zones where different sound levels are expected. Keep track of where you are and follow the rules for that particular zone.
Zone 1 (Pink) - Normal sound level.
Zone 2 (Orange) - Low sound level, talking allowed but use an indoor voice.
Zone 3 (Blue) - Total silence, no conversations or sounds are permitted.
Sound zones in Flemingsberg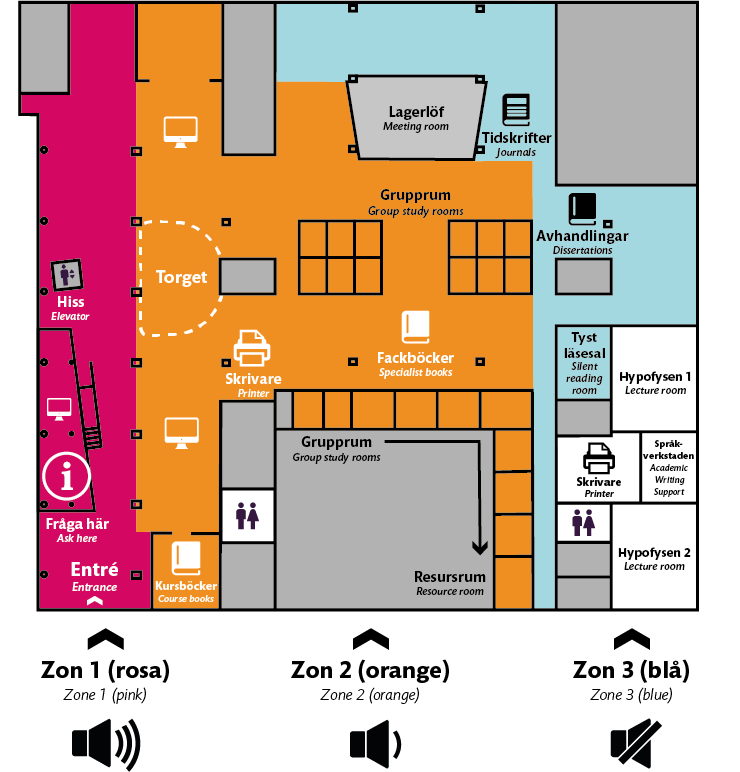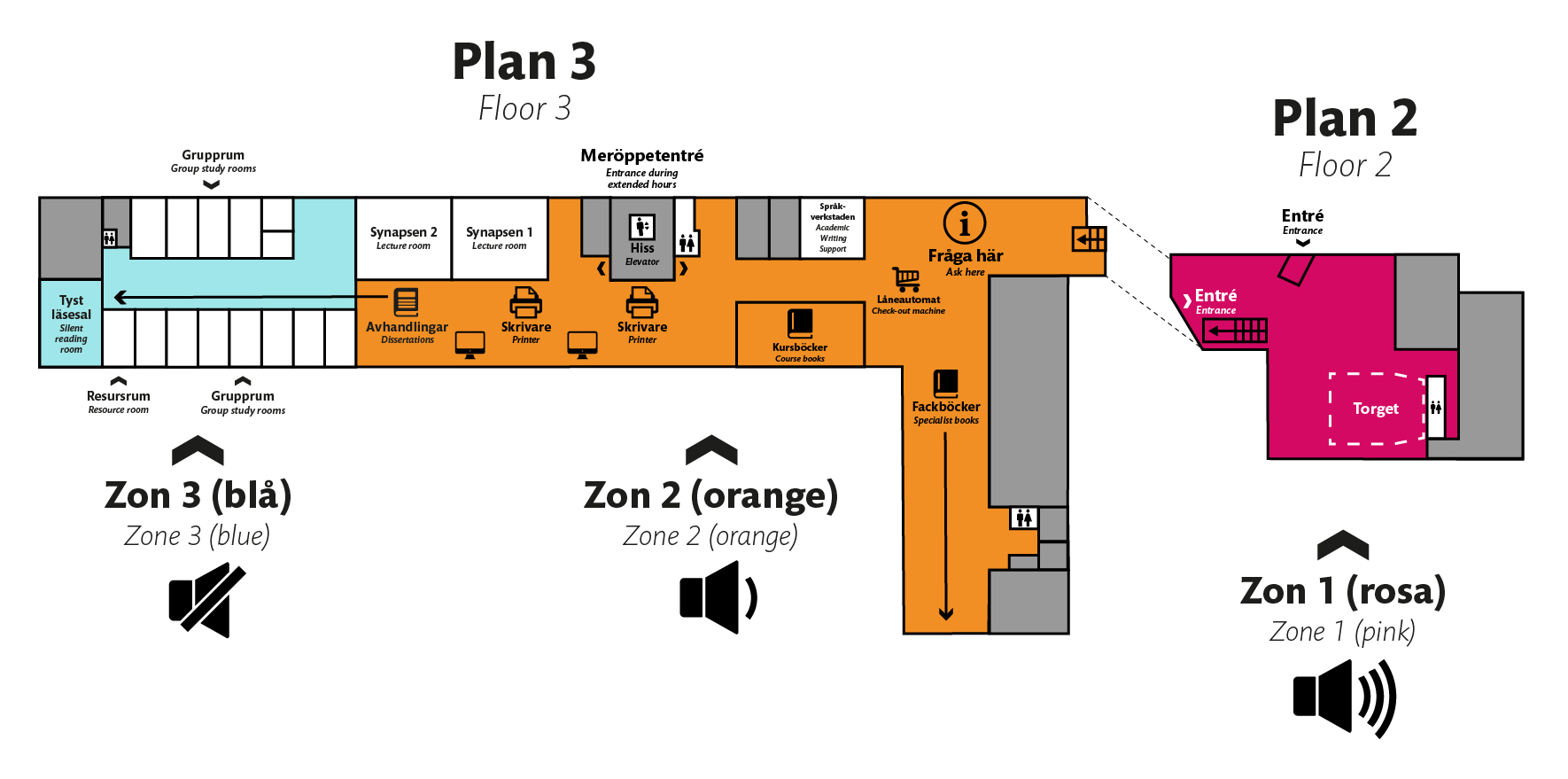 The library
Keep the library environment clean at all times. 
Pick up after you and throw your garbage in the library's recycling bin.
If you have moved furniture, put them in order before you leave.
You may not bring hot food into the library, but coffee and snacks are allowed. 
Pets are not generally allowed in the library, set aside service dogs who are very welcome. 
KIB has a zero-tolerance policy against discrimination, sexism and racism; all library visitors and staff must be treated with respect.
Computer policy
The library's computers should only be used with good judgment. You may not browse websites that are sexually explicit or otherwise inappropriate. Don't view, send or download anything offensive. See Agreement for the utilization of IT resources.
Library equipment
Treat the library property with respect and be careful with all the equipment.
Library materials must not be marked, defaced, mutilated or annotated in any way.
If you borrow our blankets, do not bring them outside the library, and return them to the blanket basket when you leave.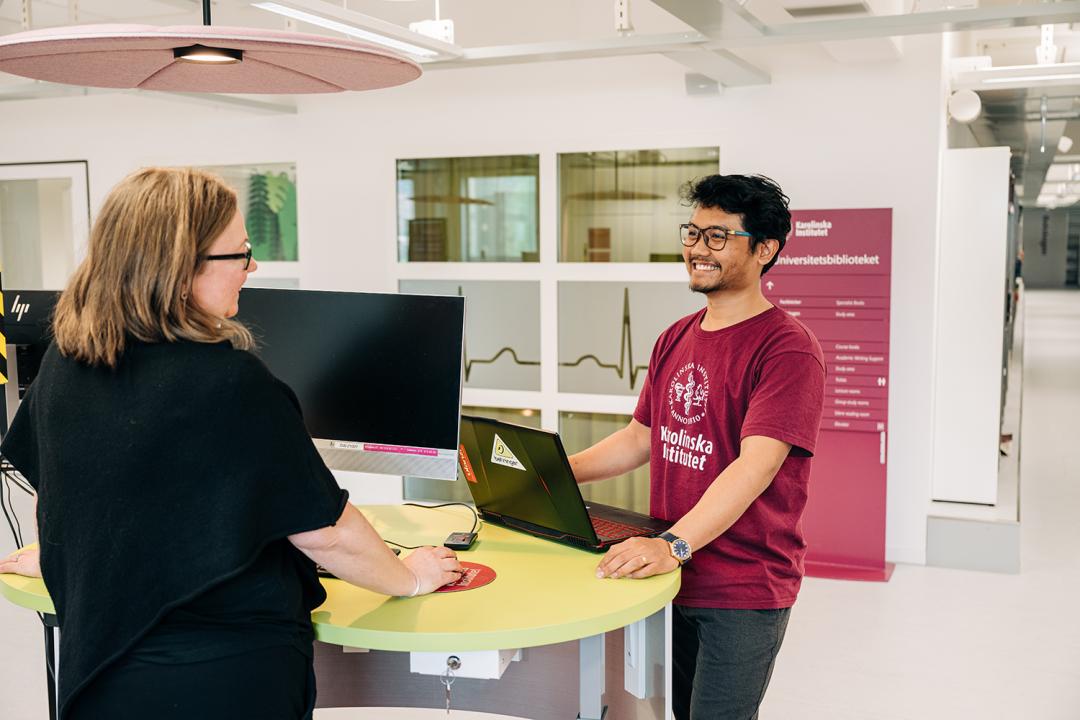 You are welcome to contact us through phone, chat or email.
Opening hours chat & phone
Last updated: 2021-11-25