About the website, GDPR och accessibility
The overarching mission of Karolinska Institutet's University Library is to give support to KI's core activities, i.e. medical research and education. This mission also applies to the library's website, the purpose of which is to create favourable conditions for research and learning at KI by offering contextual support for the users' work and needs.
Give feedback
We are continuously striving to improve our website. If you have any comments or questions about the content or the website in general, please contact our web editors via webb@kib.ki.se or use our Give feedback form.
General Data Protection Regulation (GDPR)
In order to make you feel safe with how we process your personal information, we have clarified our policy in accordance with the EU Data Protection Regulation (GDPR).
When we process your personal information, you have certain rights. This means that you can get information about when and how we process your personal data. You can also ask us at any time to delete your data.
For more information, see Processing of personal data.
GÉANT Data Protection Code of Conduct
Our services that use personal data from identity issuers follow the international framework GÉANT Data Protection Code of Conduct for the transfer of personal data from identity issuers to the service. The framework is intended for services in Sweden, the EU and the EEA that are used in research and higher education.
Cookies
Several of KIB's services use cookies. Cookies are small text files that are stored on a visitor's computer and can be used to follow the visitor's actions on the website. There are two types of cookies:
a permanent cookie that remains in the visitor's computer for a determined time.
a session cookie that is stored temporarily in the computer's memory while the visitor is inside a webpage. It disappears when you turn off your web browser.
Our chat service ImBox requires cookies to work. It sets both persistent cookies and session cookies for statistics and settings. This enables follow-up and development to give you as a user a good experience of the service.
No personal information, like the visitor's email address or name, is saved in the actual cookie files.
If you don't accept that cookies are used, you can block them in your web browser's security settings. You can also set the web browser so that you are asked every time the website tries to put a cookie on your computer. Your web browser can also delete cookies that have been stored previously; see the web browser's help pages for more information.
Web analytics
We use the web analytic tool Matomo, which uses cookies, as a tool to analyse the traffic on our website. The data is used to improve our website and provide a better user experience. 
Accessibility
We want as many people as possible to be able to use the website and we work continuously with accessibility. Read more in our Accessibility statement.
Web browser
The website is best viewed in newer browsers that support web standards. Older browsers or versions do not fully support web standards which might generate certain discrepancies in the layout.
kib.ki.se has been adapted to be viewed equally well on a regular computer as on a mobile phone or tablet. As long as you have a newer browser, the website should function.
The publication system used is an open source system called Drupal 9.
Creative Commons license
Text and illustrations produced by the library and published on kib.ki.se are subject to the Creative Commons Attribution-ShareAlike 4.0 International License.
Other material may be produced by other creators. A CC license for film and photography will therefore be published next to each object which clarifies which license applies. If no license is specified, the work is not CC licensed.
The CC license does not apply to the library's reference guides.
The CC license does not apply to Bildmakarna's material, unless otherwise agreed.
The CC license does not apply to material on the pages in the bibliometrics section, unless otherwise agreed.
If you are unsure of how to use material on the website, email kib@ki.se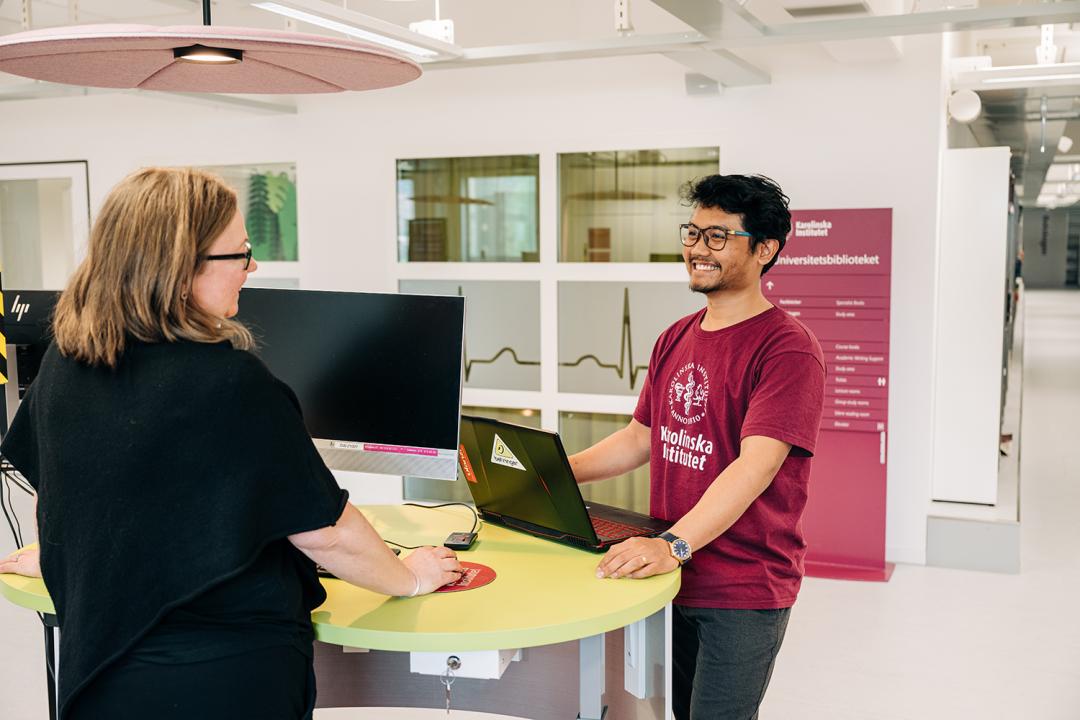 You are welcome to contact us through phone, chat or email.
Opening hours chat & phone
Mon (23/5) - Wed (25/5):
9:00-16:00
Thu (26/5) - Sun (29/5):
Closed
Last updated: 2021-12-08