When you are using a computer off-campus or off KI:s wired network, you must be recognized as a KI user in some other way, in order to access journals, databases and ebooks provided by the library. Here we describe different ways to get remote access to the library's resources and what you can do when it does not work.
Please note that if you are not affiliated to KI, you can only access the library's e-resources from the computers in the library.
Start your search on the library's website kib.ki.se
When you start your search through the library's website, you will be asked to log in with your KI / student login when you try to open a database (for example PubMed, Web of Science or Cinahl) or a full text article that is not free.
It is also beneficial to use the links at kib.ki.se when you want to search databases which are freely available for everyone, such as PubMed or Google Scholar, because then the link "Get it! @KI", that provides access to the articles that the library subscribes to, appears.
Download browser extensions
There are two browser extensions that you can download. They both automatically check for articles available to KI users through the library's subscriptions or open access, and help you authenticate even if you are outside of KI:s network. You can search for example in PubMed or Google Scholar without having to visit the library's website, and still have access to articles even when they are published in journals that the library subscribes to. The extensions are described in more detail below.
LibKey Nomad
LibKey Nomad displays an icon with a green drop at the bottom left of your screen for articles that the library subscribes to or that are openly available. Click on the green drop icon and you will be directed to the KI login page and then to the article.
LibKey Nomad also affects the result list in PubMed och Web of Science among others. Icons for access are added in the result list.
"Download PDF" appears when you can download the article.
"View complete issue" appears when the library subscribes to the journal and leads to the issue in BrowZine.
"Access options" leads to the order form if the library doesn't have a subscription.
The extension is available for Chrome, Edge, Firefox, Brave and Vivaldi (for computer).
Follow these steps to install LibKey Nomad:
Follow the instructions and select Karolinska Institutet as your organization.
Done! Now you will see the icon on pages when you have access to the article. Note that if you have a bad internet connection, it may take a few seconds for the icon to appear.
Lean Library Access
The library's service Lean Library Access is a browser extension that automatically checks if you can download an article via the library's subscriptions. If the library does not have a subscription, the extension will search for an open access version of the article; if that is not available, it will link to our order form.
The extension is available for Chrome, Firefox, Safari, Edge and Opera when using a computer (not tablet or mobile phone)
Follow these steps to install Lean Library Access:
Install Lean Library Access by following the instructions. Select Karolinska Institutet from the menu. If you allow pop-ups in your browser, it can inform you when you have access to articles behind pay walls.
Done! The grey icon in the browser's toolbar turns green when Lean Library Access is active and has identified content that you can access either through the library or open access.
Add KI as your Google Scholar institution
If your add KI as your institution the 'Get it!@KI' link shows next to the articles the library subscribes to, even if you did not use the library's link to Google Scholar.
Instructions:
Go to Settings (which sometimes only display as a cogwheel icon) under the menu (the icon with three horizontal lines) in Google Scholar. Choose Library links. Search for and add Karolinska Institutet, and other institutions which you possibly also belong to.


Use BrowZine on your computer or mobile device
When you browse one of your favourite journals from your bookshelf in BrowZine, you do not have to log in again when you want to read an article, download it for offline reading or export it to EndNote / Zotero. If you use BrowZine on a tablet or mobile phone, you only need to update your login details every six months to keep your access to the subscribed journals from the library.
BrowZine gives you access to approximately 10 000 subscribed journals. Browse journal titles, read offline and collect favourite titles in your personal book shelf.
Åtkomst
App version
Also available for download to iOS and Android devices.
App instructions
Download BrowZine to your smartphone or tablet.
Choose Karolinska Institutet under "Choose Library".
Sign in with your KI credentials.
Log in with your KI account on the publishers' platforms
On many publishing platforms, you can log in directly with your KI account to get access to articles that the library subscribes to (as an alternative to going via a link on the library's website). The function is usually called "Institutional login", "Access through your institution" or similar.
Do this:
Look for a link to log in at the top right.
If there are several options - select "institutional login" or similar.
Select Karolinska Institutet in a drop-down list of institutions. The list can also be based on region or identity federation (SWAMID or UK Federation) on some platforms.
Log in with your KI account on the login page you are sent to.
Now you can access the content that the library subscribes to. There may still be content that is not included in the library's subscription and that you therefore cannot access, even though you have logged in.
Please note that many platforms also offer login with a personal account. That is a different type of login that requires you to be registered or have a personal membership / subscription. The purpose of the function "Institutional login" is for you to confirm with your KI account that you are connected to KI and therefore have access via the library's subscription. The purpose of a personal account is often that you should be able to save searches or articles or make personal settings.
On some platforms you can be remembered as a KI user so that Karolinska Institutet is already pre-selected next time.
Troubleshooting and other tips
Have you done as described in any of the paragraphs above and still have problems accessing an article? Perhaps any of these troubleshooting tips can help you.
Having trouble logging in with your KI or student account?
Is it only when you try to log into the library's services you have problems? Please note that as a student you only have access to the library's e-resources as long as you are registered as an active student in Ladok.
Do you have problems with your account in general? Contact Student IT. If you are an employee, contact your IDAC administrator.
Do you get an error message or a completely blanc page in your browser?
Try another browser. Browser-related access problems tend to be more common in Internet Explorer than in, for example, Edge, Chrome or Firefox.
If it did work in another browser, try clearing your browser's cache and cookies.
Make sure you have the latest version of the browser you are using.
Did the full text link take you to the wrong article?
Search for the journal in the search box at kib.ki.se and browse by year, volume and issue to find the article. Sometimes it is just the link that is the problem, not the access to the article itself.
Please report to the library even if you find the article, so we can fix the incorrect link.
Does it say No full text, or that the library does not have access?
Search for the journal in the search box at kib.ki.se to see if the journal should be available the year the article is published.
If it says that the journal should be available, please contact the library so we can help you get the article and solve the problem.
If the article is from a year that our subscription does not cover, you can order a copy.
Do you get the error message "DNS_PROBE_FINISHED_NXDOMAIN"?
The error is related to your internet service provider's DNS service, which fails to translate the database provider's domain name into an IP address that the browser can find. Neither KI nor the database provider can solve the problem. Here are some tips on things to try: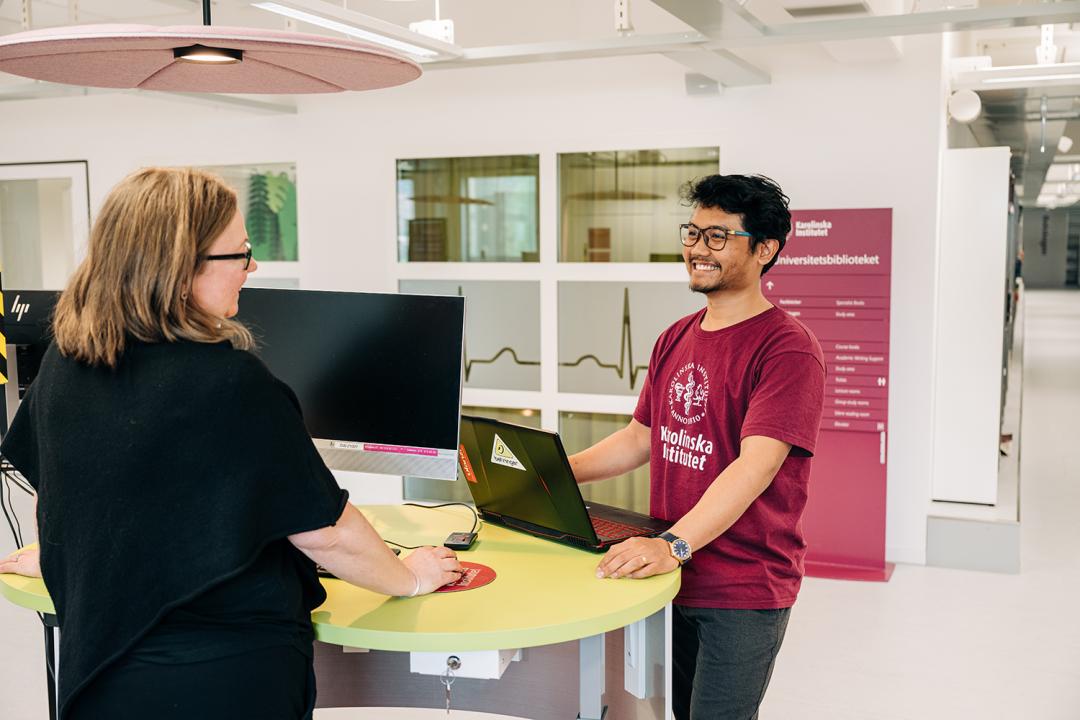 You are welcome to contact us through phone, chat or email.
Opening hours chat & phone
Last updated: 2022-05-20